When:
August 17, 2017 – August 20, 2017
all-day
2017-08-17T00:00:00-05:00
2017-08-21T00:00:00-05:00
Where:
Franklin Marriott Cool Springs
700 Cool Springs Blvd
Franklin, TN 37067
USA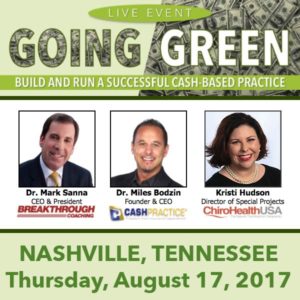 Our Sponsored session:
GOING GREEN: GROWING A PRACTICE THAT MAKES DOLLARS & SENSE
Presenters: Dr. Mark Sanna, Dr. Miles Bodzin, Kristi Hudson, CPCO
Thursday,  August 17, 2017, 1pm – 6pm
Whether you have considered a transition to a cash-based practice or you've been cash-based all along, this jam-packed seminar is for you! Recent years have brought a resurgence of interest in the cash practice model, but information on properly implementing this model varies. The foundation of a cash-based practice relies on your ability to communicate value to your patients. This includes having the proper procedures and systems in place to collect more cash from your patients, rely less on the dependence of insurance collections, and apply the appropriate legal discounts to care. You will walk away from this event with tips on how to confidently present compliant care plans and reduce your front office overhead by allocating your employees' time effectively, all while learning valuable cash-based practice strategies to benefit any practice.
Speakers Sponsored by: Breakthrough Coaching, CashPractice & ChiroHealthUSA
This course is not for CE credit